CPM Scheduling and Litigation Avoidance
RPMI teaches one- two- and three-day courses on Leveraging CPM Schedules for Successful, Litigation-free Projects. The length and design of a particular course will depend on the needs of those attending.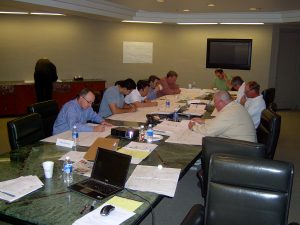 RPMI believes in a top-down approach to schedule utilization, and seeks top management commitment to these seminars.
This course focuses on detailed understanding and application of the CPM scheduling control tool as applied to development, design, construction, mitigation, and litigation of time-related issues.
This is a non-computer course. See CPM Computer Application for training with CPM computer programs.

Included in the course:
Definition of scheduling process
Detailing of the return on investment in CPM Scheduling
The value of resource loading
How scheduling avoids or mitigates litigation
How scheduling aids in dispute defense (if all else fails)
Scheduling concepts, arguments, and explanations
Basic CPM calculations
Functions of the scheduler
Interfacing with subs and getting buy-in
How to leverage reports
How to make the best use of your scheduler